Monthly archives: July 2008
Notes on a Three-Way
2008-07-31 15:08
The Red Sox had to overpay
To make their problem go away.
The good news is that Jason Bay
Is in Boston, not a Ray.
Manny's act is in L.A.
What will Torre have to say
To keep the clubhouse in array
When Pierre and Jones don't get to play?
Pittsburgh shouts, "Callooh! Callay!
Two LaRoches in the fray!"
The team's no longer gone astray.
The Pirates' future starts today.
And Kyle Farnsworth Doesn't Even Get A Second Thought
2008-07-31 11:09
The best way the Yankees can judge
That the barter that garnered them Pudge
Did better than suck
Is the instant it struck
The Sox and the Rays barked, "Oh, Fudge!"
Teixeira Trades, In Sum
2008-07-29 15:57
Texas has prospects to watch.
The Angels are better a notch.
But Atlanta's a botch,
They only got Kotch
And a titleless kick in the crotch.
Ode to Justin Mornobody
2008-07-16 22:02
The Twins are named for Twin Cities
And titled after their state
It wouldn't do to give just one
Of the cities unfair weight.
We cheered you an "M&M boy"
Just half of another pair
The spotlights blind shining to bright
And that would not be fair.
And even that was plagiarized
From a tandem way out east
But that's okay, the greatest
Someday are now the least-
Say what? Oh, you've gone out there too.
Well that's nice, have some fun.
Remember, when we all do that
Nobody cares who won.
And look! A record has been set
It doesn't really matter
But it's still fun for us to cheer
Such a heroic batter.
Well, maybe someone should remind
Him of reality-
Such miraculous victories
Are just for dreams, you see?
All right, do that, forget about
Those towering amounts
We'll see you here tomorrow night-
You know that that one counts?
And so, we count the innings which
Drag on beyond the night
Into the day, but it's still dark.
Through the stadium's light
We barely see the furtive runner
Sprinting to the plate
But we'll still remember this game
If only for the wait.
And the night before that? Of course.
Another chapter was
Added to myth. Your burden is
The hardest, though, because
In stories such like these, the tales
Themselves are central. In
Chronicles that speak for themselves,
Who cares about the win?
Humbug Review - Working at the Ballpark
2008-07-13 13:37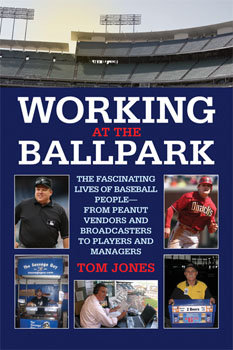 There have been plenty of autobiographical accounts of what it is like to work in professional baseball. Numerous players and executives have shown us bits and pieces of their jobs.
First-time author Tom Jones has taken a unique approach to this genre in his book, "Working at the Ballpark". He presents a collection of first-person word-for-word accounts of those making a living in diverse ways in and around ballparks ... from players to vendors to ticket scalpers to general managers to scouts.
Jones posed three simple questions to each of the 50 people he interviewed:
1) What is your job?
2) How did you get into this line of work?
3) What does this job mean to you?
Stupid Humbug Stat Tricks - '3 x 5 card' Edition
2008-07-12 21:27
They may have been facing the offensively-challenged Giants and the outside-of-Coors-challenged Rockies of late, but the Mets achieved something Saturday that hasn't been done by any major league staff since at least 1956.
Their 3-0 1-hit win over Colorado made the fifth consecutive game in which they allowed three or fewer hits. The Giants accrued three hits in each of their first two games (both shutouts), and then three more hits in the series finale. The Rockies then came to Shea and got three hits Friday night, before Pedro Martinez and four relievers held them to a single base knock.