Monthly archives: October 2006
Six Word Stories
2006-10-25 10:09
The six-word-story meme is making its way across the web. Let's play with it.
Paint a baseball image with six words. I'll start.
Zito curve. Palmeiro frozen. Inning over.

Your turn.
Mystery Photo #13
2006-10-12 13:37
Here we have Mystery Photo Number Thirteen. Your mission, should you choose to accept it, is to help figure out the who/when/where of the photo. Plus, in this case, the photographer, who tells me, "Make 'em work for it!"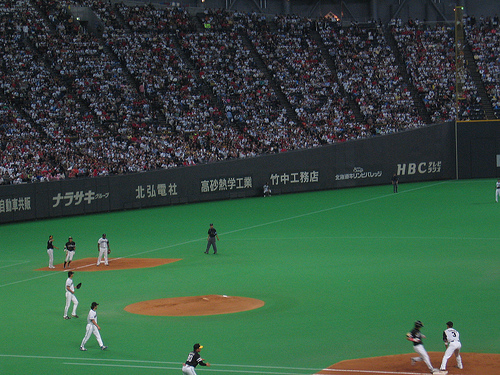 No larger view this time.
Thanks to all who have sent in photos. Feel free to send in more, by emailing them to mystery At humbug .com. (Your own photos only, please.)
2006 Division Series Preview
2006-10-03 00:09
Athletics-Twins
The key isn't hitting by Mauer,
Or finding occasional power
By Justin Morneauing;
It's Oakland not knowing
Santana's next miles-per-hour.
Cardinals-Padres
With Woody, Wells, Young after Peavy
And a 'pen that is very releavy,
The Padres are deep.
So maybe a sweep
Is something not too unbeleavy.
Tigers-Yankees
This will get ugly, I fear.
Detroit will get kicked in the rear
Unless somehow Zumaya
Is the bullpen Messiah
Instead of Rivera this year.
Dodgers-Mets
It's painful for Penny to throw.
They're trusting a rookie in Kuo.
With pitching so brittle
The Dodgers are little
But wagers on Maddux and Lowe.