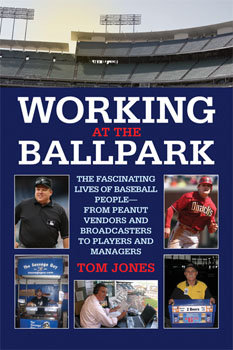 There have been plenty of autobiographical accounts of what it is like to work in professional baseball. Numerous players and executives have shown us bits and pieces of their jobs.
First-time author Tom Jones has taken a unique approach to this genre in his book, "Working at the Ballpark". He presents a collection of first-person word-for-word accounts of those making a living in diverse ways in and around ballparks ... from players to vendors to ticket scalpers to general managers to scouts.
Jones posed three simple questions to each of the 50 people he interviewed:
1) What is your job?
2) How did you get into this line of work?
3) What does this job mean to you?
Here is a sampling of some of their answers, culled from in-person interviews conducted during the 2006 and 2007 seasons (with the positions they held at the time):
Peter Magowan (Managing General Partner, SF Giants): I feel that a baseball owner doesn't really own a team the way he owns another asset. He is a caretaker. He owns something that really belongs to the community ... So he's supposed to nurture this investment, make it one that the community will support, but not try to, you know, make a lot of money - run the thing almost as if it was somelike like a public utility.
Leo Mazzone (Pitching Coach, Baltimore Orioles): (on pitch counts being shown on scoreboards) .... All you're doing is talking the pitcher into getting tired.
Steve Liddle (Bench Coach, Minnesota Twins): During the game, I try to steal signs. That's my job ... I look at the dugout. So many things come from the dugout that never get to the third-base coach. A manager will give hot signs to coaches at first base that the third-base coach will never see. He will give a sign to the runner at second base that a coach will never see. Signs coming from the dugout might not be from the manager; it might be the trainer crossing his legs, or somebody else taking a hat off.
Nick Johnson (First Baseman, Washinton Nationals): (on getting "the call" very early one morning) ... Then I called my mom and said, "Mom, I just got called up to the big leagues!" I think it was five in the morning. She said, "Nick, don't be fucking with me right now; its too early in the morning."
Chris Hanson aka Bernie Brewer (Mascot, Milwaukee Brewers): All the mascots around the league know each other, by the way. Its like a big fraternity. I call Wally the Green Monster, from Boston, all the time. I call the San Diego Friar. Us three are like best mascot friends. We give each other crap. We just mess with each other. I recently called Wally the Green Monster and asked him if he saw SportsCenter because I made the show. You know, stuff like that.
John Guilfoy (Sausage Vendor outside Fenway Park): We've got an agreement with Gold's Gym down the street. We give them sausages, they let us use the bathroom.
Henry Schulman (Beat Writer, San Francisco Chronicle): One of the hard parts of writing on deadline is you don't get to watch baseball as much ... I don't want my head buried in a computer when the game is on if I can avoid it.
Bob Tayek (Public Address Announcer, Cleveland Indians): I've been observing professional announcers over the years. The best were the ones that were best prepared. They phonetically spell out every name. I spell them out phonetically especially if I am not familiar - to make sure of even the little things.
I found it to be an interesting glimpse into the world of pro baseball, and the narrative approach worked well. A good addition to one's baseball library.