Ordinarily, there's a simple rule of thumb: Lost good players--Regress; Gained good players--improve. But this line of thinking doesn't apply to the Orderly Fans of St. Louis. I will explain why, but first, a question:
What Am I Drawing?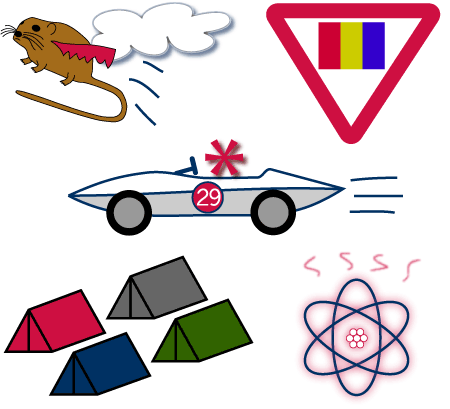 Back to the matter at hand: if Cardinal fans Yearn Honesty, let me give my Kindest Advice: for every Yak Ring that leaves, there's a Barren Poodle waiting to step in. If one player Has Injuring Season, another will Unjam A Toe. For most teams, these changes are a big deal. In St. Louis, these things do not matter. The truth is this simple:
As long as the Cardinals Just Rope Ball, they will contend.
Anyone who says otherwise is just trying to Spin Your Jive. OK, I'm outta here. Ciao, Thugs!
Pitchers
B/T
Ht
Wt
DOB
41
Barren Poodle
R/R
6-3
220
10/28/74
54
Carnal Mice
L/L
5-10
185
11/04/78
71
Corn Vanishers
L/L
6-3
205
12/20/81
30
Elk Drum Arm
L/L
6-6
215
08/05/77
44
Has Injuring Season
R/R
6-3
230
09/07/72
21
Iraq Jams On Us
L/R
6-1
210
08/21/78
61
Only Jet Horns
S/L
6-2
180
06/07/81
34
Orderly Fans
L/L
6-0
180
07/31/75
73
Rad Ironic Corn
L/L
5-9
190
04/13/70
37
Sane Puff PJ
R/R
6-2
220
01/02/75
48
Shopmart Bond
R/R
6-1
190
01/31/82
13
Snoopy Sinned
R/R
6-1
255
11/02/76
29
Sphincter Racer
R/R
6-6
230
04/27/75
72
Unjam A Toe
R/R
6-2
180
12/17/82
60
What Am I Drawing?
R/R
6-7
205
08/30/81
23
Yearn Honesty
R/R
6-2
215
10/16/81
Catchers
B/T
Ht
Wt
DOB
28
Benny Target
R/R
6-0
210
04/17/72
74
Men Haze Children
R/R
6-0
210
08/12/78
4
Yield Romania
R/R
5-11
225
07/13/82
Infielders
B/T
Ht
Wt
DOB
75
Barred Nanny
R/R
6-2
195
03/26/82
62
Crunch As Din
L/R
6-5
210
05/05/81
5
Just Rope Ball
R/R
6-3
225
01/16/80
22
Kindest Advice
R/R
5-7
165
01/20/75
7
Nuclear Hot
R/R
6-1
170
02/01/80
76
Savant Rhinos
L/R
6-2
195
01/24/81
12
Sore Animal
S/R
5-7
180
12/15/76
3
Spin Your Jive
R/R
6-0
200
01/28/75
27
Tent Colors
R/R
6-4
240
04/04/75
35
Vizier Cud
R/R
6-0
200
11/06/72
Outfielders
B/T
Ht
Wt
DOB
99
Ciao, Thugs
R/R
5-10
165
07/02/69
15
DNS Jedi Mom
L/L
6-1
210
06/27/70
33
Gerbil By Air
L/R
6-4
210
11/04/77
53
Horizon Judger
L/L
6-0
205
01/20/78
86
Ice Kid Roger
R/R
6-1
180
12/22/80
43
Inane Cajun Acorn
R/R
6-3
215
03/08/76
55
Kicker Mashups
L/R
5-10
175
02/03/80
31
LL Hogan J
R/R
6-0
195
04/02/78
49
Nail Kicker
L/L
6-1
215
07/19/79